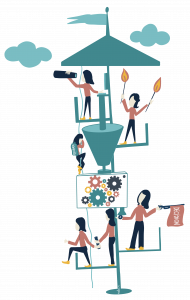 Traditionally, Germany has been a strong exporter and global leader in the world of trade. Exports have been a main engine of Germany's economic model and growth. Industrial nations like Germany also need imports to feed production and consumption. Like many economies, Germany is heavily dependent on fluid, reliable, and efficient global supply chain networks. Over the last 200 years the world has turned into a global village where different industrial hubs within nations have been playing to their strength punching above their weight by adding an additional layer of economic growth through exports. But this source of wealth has been increasingly facing headwinds. The supply chains that feed production and consumption are exposed to rebalancing geopolitics with geoeconomics amplified by shocks like the responses to the SARS-CoV-2 pandemic and the Ukraine war. The tide has turned and times have certainly become more volatile, uncertain, complex, and ambiguous (VUCA).
The virtual watch tower / VWT
Navigating this VUCA environment requires new supply chain management practices and tools. This drove the creation of the cargo owner-driven terminal-centric virtual watch tower / VWT movement, digital middleware, and community (www.virtualwatchtower.org). A diverse group of actors of the global supply chain ecosystem have joined forces in the VWT led conjointly by Research Institutes of Sweden (RISE) and Institute of High Performance Computing (IHPC), a research institute under the Agency for Science, Technology and Research (A*STAR) in Singapore. The VWT with its VWT network / VWTnet digital middleware applies a novel approach to data sharing which is foundational for future supply chain and logistics digitalization and collaboration. The initial community of 25 VWT members and partners are driving the creation of a distributed and networked system-of-systems for improved supply chain management. During an initial two-year project phase mixed and diverse teams will be shaping a digital solution and growing the community before the digital prototype and project-phase members will find a new home in a legal entity and membership-based organization backed by neutral sponsors carrying the movement forward.
The impartial and inclusive VWT, which is sponsored by a group of likely evolving neutral and trusted organizations like RISE, the Singapore Maritime Institute (SMI), and A*STAR follows operationally the contractual relations between actors, e.g., cargo owners and forwarders, with a power-of-attorney (PoA) helping the sharing of private data along the end-to-end chain. In its design, the VWT applies a minimalist approach to e.g., (1) architecture, i.e., the VWT leverages the digital infrastructure and architecture of the VWT community members in an internet of VWTs / VWTnet approach through minimalistic downloadable builders with minimalist analytical services, (2) private data sharing, i.e., only minimal private datasets are required to be shared and feed the VWT services, (3) public data and analytical services provider arrangements which are distributed and can be accessed through APIs, (4) VWT proprietary analytical services and collaborative tools to largely avoid duplications of existing offerings, (5) the VWT legal entity that will carry and represent the solution, (6) governance, and (7) onboarding procedures for new members and partners.
The VWT also amplifies its own capabilities by leveraging existing standards / data formats as well as third-party data and analytical services available on the market and in public spaces, facilitating technically and contractually relationships between the VWT members and third-party data and analytical services providers, which, in addition, can at a later stage also build their applications upon the VWT middleware.
The ultimate goal is to identify and develop those few minimalistic mechanisms that will snowball the VWT to global scale enhancing the VWT members' supply chain management capabilities all across the globe.
Addressing cargo owner pain points
The actors most interested in the smooth flow of goods are the cargo owners, i.e., the buyers of transport and logistics services that need to live up to promises given to their customers. In numerous conversations and working sessions the cargo owners pointed towards two major shortcomings, particularly the lack of (1) visibility, which is of particular importance when disruptions emerge, and (2) effective and reliable tools to calculate and manage carbon footprints to reduce Scope 3 GHG emissions.
Closing these gaps brings significant advantages. If disruptions are managed properly cargo owners and other actors can first, profit from cost savings, while second, increase customer satisfaction and retention. Both drives topline and bottom-line growth. Underlying benefits include avoidance of expensive emergency air transport, freed up capital, and more precise emission data to manage reductions and achieve compliance and differentiation. Society gains as well. Reduced emissions result in improved health and well-being of workers and citizens particularly in terminals and neighboring cities.
Closing the collaboration gap
One of the key causes for suboptimal supply chain performance identified by experts across the world is misalignment due to lack of collaboration across supply chain networks. A challenge that many people in the industry have been discussing for a long time.
Collaboration is complex and optimizing only the own operations is simpler but ineffective. In self-organizing but interconnected systems like transport and logistics the uncoordinated action of one can (negatively) affect the situation and operations of many. Collaboration can help to avoid such negative effects causing damage to business, industry, and economy. As an example, increased alignment between governments and on operational level would have eased the negative effects of governmental responses to Covid-19 on international supply chain networks.
While competing on markets, we should collaborate on matters of common interest like the mitigation of supply chain risks and the reductions of greenhouse gas (GHG) emissions. Such collaborative behavior between competing actors is called coopetition. The rewards of coopetition are high. Situational awareness, for example, which requires collaboration in form of data sharing can translate into improved reliability / on-time arrivals, lower cost for corrective action, and more precise GHG emissions calculations as the basis for mandatory Scope 3 reporting and emissions reductions.
Furthermore, digitalization requires collaboration. Both need to work in symbiosis as collaboration at scale also requires digitalization. Empowering a community through coopetition, collaboration and digitalization is exactly what inspired and motivated the creation of VWT / VWTnet.
Mobilizing for coopetition
The VWT is a hybrid human-machine solution, a community built around a smart digital middleware / VWTnet that connects VWTs of different member organizations. As with solutions like Salesforce, the VWT has an open and inclusive architecture on which software developers and vendors can build proprietary applications. In addition to its minimalist range of proprietary analytical services, the VWT offers collaboration tools like pop-up situation rooms empowering a collaborative approach to discuss data, outputs of proprietary and third-party analytical services and risk mitigation action which can benefit business, industry, and economy.
The open system-of-systems solution builds upon the control towers, dashboards, and server infrastructures of its growing number of members and industry partners. Members and partners include supply chain actors such as cargo owners / transport buyers like Alleima Tube, BDP International, Einride, Ericsson, Scania, and Stora Enso; logistics value chain services providers like PSA International, MSC, Green Cargo, GDL, Wallenius SOL, and Yilport; technology firms and equipment manufacturers such as Cargotech with Kalmar and Bromma, HERE Technologies, Marine Benchmark and Strategy Object; and knowledge partners like Gothenburg University, Chalmers University of Technology, VTT, and Umeå University. Kvarken Ports, Port of Gävle, Helsingborg Port, the Swedish Ports Association, and Business Sweden are also part of the VWT world. The VWT community represent essential parts of the supply chain ecosystem with a need and room for growth.
Germany has a strong community of exporters and logistics and transport services providers that can contribute to and benefit from the VWT. This is an invitation and call for German supply chain actors, whether shippers, forwarders, carriers, or terminal operators to consider a membership in VWT.
Nothing is immune against failure
System initiatives can fail as the discontinuation of Tradelens due to lack of commercial viability shows. Many believe that such solutions need to be impartial and carried by a spirit of collaborative efforts and sharing of benefits. This is exactly what VWT stands for.
The VWT project which was been kicked-off earlier this year is conceived as an open, distributed, and neutrally led initiative at the beginning of its journey towards increased collaboration and digitalization across the supply chain ecosystem and economic and societal value and capital creation. This is what inspirers the VWT members and appeals to interested parties worldwide across government, business, and academia.
Novel and urgently needed in the 21st century
Collaboration and digitalization are powerful enablers of supply chain management in times of VUCA and a rather moderate global economic outlook. At times when the US and China were closely collaborating, the global economy was in much better shape. Economic theory claims that even if a country imports much more than it exports both nation benefit. This effect has increased access to and affordability of goods for millions of businesses and consumers since the end of the last cold war. But such rapid economic developments need to be managed thoughtfully by local governments to ensure that nobody is left behind in the process.
Coopetition is an important driver of economic and societal evolution, resilience, and growth. History has proven that we perform better in a world which follows the principles of nature practicing a combination of competition and collaboration. Competition stretches us and brings the best out of us while collaboration helps us to tackle major challenges that we can't cope with alone. Coopetition outside of nature is also not unusual. Countries compete on global markets but collaborate in defense. Companies compete for customers and collaborate in research and development.
The concept of coopetition sits at the core of VWT. While competing on sales and sourcing markets, VWT members collectively augment their ability to better deal with economic and societal challenges like supply chain disruptions and GHG emissions. Novel solutions like the VWT are becoming the new normal in the 21st century and you can be part of the movement. Contact the authors of this publication to join us in our efforts to drive improvements and positive global change, in logistics and supply chain management.
About the authors
Wolfgang Lehmacher is a former Director at the World Economic Forum and President and CEO Emeritus of GeoPost Intercontinental. He is member of think tanks Logistikweisen and NEXST. He is author of the books Wie Logistik unser Leben prägt (German edition) and The Global Supply Chain, co-author of Circular Economy (German edition), Disrupting Logistics, and the Practical Playbook for Maritime Decarbonisation, and co-editor of Maritime Decarbonization.
Mikael Lind is the world's first (adjunct) Professor of Maritime Informatics engaged at Chalmers and Research Institutes of Sweden (RISE). He is an expert contributor at World Economic Forum, Europe's Digital Transport Logistic Forum (DTLF), and UN/CEFACT. He is co-editor of the first two books on Maritime Informatics, co-author of the Practical Playbook for Maritime Decarbonisation, and co-editor of the book on Maritime Decarbonization.