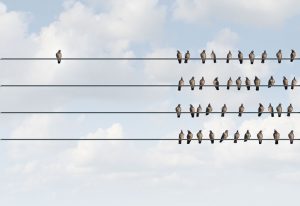 #4 of 7 articles about impacts of Covid-19 on supply chain innovation
Over 25 years, I have been driving innovation projects. Set up multi-model ground services at Kuehne & Nagel in the 80s. The special services division at TNT in Germany. At DPD, I launched express services on the parcel platform. As an angel investor, I have been supporting startups over the last decade. I am a businessperson that believes in people. It is the people that make the difference and innovation happen.
"Innovation distinguishes between a leader and a follower," said Steve Jobs. But what enables innovation. It is the culture, the leadership, the middle management, and the workforce that bring it to life – or not. What is today's innovation landscape? What are the true incentives to drive positive change in the world? What is the real support of the middle management? The endorsement from the top? Even though companies are aware that they need to innovate. Some organizations seem to be simply too good at their current job to be disruptive.
Innovation requires a holistic approach. "The core message on innovation is that there is no one thing that you do. There are a set of things, reinforced by the culture of the company, that enable and empower innovation. People often ask, 'what's the one thing I can do?' or they say 'we're going to set up an innovation team' or 'I'm going to hire a chief innovation officer.' When I hear that I think — you're never going to get there; that's not how it works" says Jeff Huber, senior vice president at Google X. How can successful companies mobilize the energy and resources to drive innovation? A question that warrants some deeper analysis.
The availability of talent
Purchasing, risk management, people management and supply chain core skills, were identified as areas of skills shortage during webinars organized by LogiSYM. Innovating skills were not on the list. It is important to distinguish between talent and skill shortages. While some skills are missing, there is no shortage of talent. The challenge is the lack of skills not of people. We will see a second wave of layoffs when the stimulus packages run out of steam. Hence, there will be more talent available. Currently, companies hardly hire. But once the economy picks up again, businesses will start hiring to capture the upsides of the rebound.
Personally, I do not believe in scarcity at all. We live in a world of abundance. Our mind, our imagination is what sets us the limits. On the market, there are so many talented people that are unemployed. So many are in positions but are looking for new opportunities. Certainly, we do not have enough data scientists or drivers in some markets. Really? Did you see trade flows being disrupted due to a driver shortage? Humans are problem solvers. Innovators and entrepreneurs find their way. These are the people that create the value. A company's challenge is to identify, attract and keep these people.
Innovation needs courageous "corporate misfits" with strong drive and expertise. People with purpose and cause. "The people who are crazy enough to think they can change the world are the ones who do," said Steve Jobs. Innovation is like leadership; it is a mindset and an attitude. A way of thinking, working, and living. It is the ability to realize things that most people do not even see. It is the capacity to bring ambitious projects over the finish line – and this against all odds. Edvin Land, who was a troublemaker and Harvard dropout saw the intersection of art and science and business and founded Polaroid. The economic consequences of the measures following Covid-19 will make a lot of talent redundant. Will large enterprises be able to capture the opportunity and strengthen their teams with some new fresh blood? 
The workforce
Some ask whether the workforce available is really keeping up to date with the changing business landscape and industry realities? I suggest worrying less about the workforce and more about the leadership. Are the leaders in it for the change, for the new ways of working and operating? As a former internal change agent, I can say that most managers are probably not terribly interested in radical change. If change is unavoidable, operators think it should happen in an incremental manner. Opposed to innovators that seek disruptive innovation. Regularly, non-management personnel are eager to innovate but management does not support and encourage it. Many managers see change as a risk to their lives and careers. Even when upper management supports innovation, middle management and first-line supervision often find ways to stop the organization's efforts to drive innovation to prepare for the future.
Without question, the workforce needs constant right-skilling. But the pressure on the workforce is high, and people have little choice but to adapt to the new and galloping changes in the workplace. Hence, I am not worried about the workforce. People will take up the challenge and acquire the necessary new skills. Some workers will never give up innovating and suggesting improvements. Whether they are encouraged, acknowledged, and incentivized – or not. There is a lot of energy for change in the workforce. An enormous source of creativity and drive leaders can tap into. 
The role of leadership
Most companies are not promoting the people that drive change but those that protect the turf. That is probably one of the key reasons why innovation usually comes from outside. Patrice Caine, Chairman and CEO Thales writes that "there will always be more groundbreakers outside of your company than within".
If leadership wants to drive innovation, they must identify, attract and protect the innovators. Innovation is in many cases threatening someone in power. The innovator is the enemy of the operator. Or at least a nuisance. In the Myths of Innovation Scott Berkun writes "Steve Jobs took the Macintosh project into a separate building at Apple headquarters, sequestering it from the rest of the company". Berkun assumes that "Any story of breakthrough work has some acting as a shield, defending innovation while it's happening". Protecting is the role of leadership in an innovation culture. This, not for a short moment but sometimes years. The strain brought about by the Covid-19 outbreak will not help in this respect.
The culture
Culture eats strategy for breakfast", a phrase originated by Peter Drucker and which made widely known by Mark Fields, President at Ford, applies to any change program. The most radical of which is innovation. "The corporate immune system favors predictable, incremental growth, and efficient use of resources", says Salim Ismail, Founding Executive Director of Singularity University, and lead author of Exponential Organizations.
Innovators leave large companies because of a corporate's resistance to change and innovation. Eric Yuan worked at WebEx, a division of Cisco as head of engineering. He was not convinced by Cisco's video conferencing product and tried to convince his management that the company needed to build a better offering. His bosses did not agree, and Eric left the company to create Zoom. Another impediment to innovation is bureaucracy. Corporates regularly miss out on building new products because their internal innovators do not find the environment where they can thrive.
Driving innovation
Giving internal innovation a chance requires a few things. Innovators are usually not that "flashy" but grounded, disciplined, intrinsically motivated and good collaborators. Companies that give them the space to operate have a chance to retain them. Often, innovators are the ones to leave with confidence.
Saying "no" is the safe option. Rarely somebody gets demoted or fired because of refusing a project. The risk starts with a "yes". "Yes" is what stands at the beginning of every corporate innovation project. Some innovators overcome the naysayers. Eric Favre's idea to launch Nespresso was initially rejected. But he secretly kept working on the machine and eventually managed to persuade his bosses to give it a try. The chance to repeat such a success story is quite low. Many do not go through the "pain". More than 75% of successful entrepreneurs across several industries worked at large enterprises before they launched their own venture, finds Kauffman Foundation. Creating a "yes" culture and accepting failure will help internal innovation.
Innovation needs money. Startup investors are used to taking high risk and fueling sometimes massive funds into small ventures. Most corporates are risk averse and not used to continuously investing in projects that may or may not succeed. Mainstream leaders in corporates are always in search of funds. Stalling an innovation project is an easy prey. They say they are the cash cow that keeps things afloat. The bigger a company, the smaller are comparably the innovation projects and ventures. The leadership needs to be constantly reminded that every company starts small and that it took even players like Amazon many moons to turn a profit.
Finally, there is a mismatch between result and reward. Enterprises promote people and pay bonuses. But they hardly let the innovators participate in the commercial success of their outputs. Driving innovation within a large enterprise requires that innovators can participate in the upside. But the innovators have also to understand that with the upside comes sometimes some sacrifice, for example in form of a lower monthly salary. Those people that struggle with that kind of trades might be good innovators but not true entrepreneurs. It requires empathy and agility to drive corporate innovation – something which is not in the genes of most corporations today.
Many companies drive innovation at the fringes. Or in separate entities. Incremental innovation can emerge within the core business. Running proof of concept (PoC) projects or using innovative services is another way to bring exposure to innovation inside a company. But self-disruption remains an exception. Disruption often happens outside the chambers of a company's current core capacity. It is far away from the core business, where most of the innovation happens, where the majority of the "next generation" products are created. Even at Apple most of the action happens around the iPhone. The breakthroughs must come from another place.
Collaborating or investing in startups is a way to drive innovation, without interference of the core team. This implies that the company does not invest off its own corporate balance sheet but through an independent vehicle. This is the way to protect the venture and give the innovators the space to innovate and operate independently.
The Covid-19 caused turmoil will drive innovation. In the past, crises have brought out beautiful innovation and great innovators. Companies need to create conducive conditions to attract and retain talent or to successfully engage with startups. Innovation is a special skill. This crisis also brings opportunities for mergers and acquisitions (M&A). Similar rules apply. Protecting the acquired company is the prerequisite for extracting the value from the investment over time. But the more successful an enterprise the higher the barriers in the way of innovation. That is what Clayton Christensen calls the innovator's dilemma.