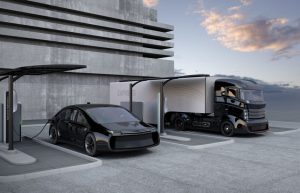 #5 of 7 articles about the electrification of goods transport;
Co-Author: Radek Janků, Founder and CEO BattSwap
"Immediate investment in clean electric infrastructure will jumpstart our economy and put millions of American's back to work building safe, sustainable and prosperous communities across our country," writes Matt Petersen, president and CEO of the Los Angeles Cleantech Incubator (LACI) in The Hill in July 2020. McKinsey estimates that the market for energy optimization services to support the charging of EV fleets could be worth $15 billion in the United States (US) alone and says that estimates suggest that the total cost of ownership can be 15-25% below that of equivalent internal combustion engine (ICE) vehicles by 2030. The efficiency of EVs and the moderate price of electricity allow fleet operators to recoup the higher up-front cost of BEVs quickly.
The EV charging opportunity results from (1) the difference between retail and wholesale energy prices, i.e. electricity purchases from off grid facilities like onsite solar installations or under direct contracts, (2) energy management services that allow operators to buy power during off-peak hours and use the stored power to recharge EVs when electricity prices are highest, and (3) providing ancillary grid services; vehicle to grid (V2G) technology allows to sell power stored in EV batteries back to the grid during periods of peak demand.
Fleet operator may collaborate to develop charging infrastructure and benefit from lower energy prices by bundling purchasing power. The opportunities in EV fleet charging will initially materialize in high-demand markets with low cost solar power. Favorable policy frameworks can support the development of the EV fleet charging market. Currently, energy tax and the rate advantages for bulk energy consumers make private charging the cheapest option and charging at public stations a matter of 'last resort'.
Getting technical
"The electrification of transport requires the integration of vehicles into a reliable and affordable as well as easy-of-use infrastructure for the supply of energy" states the European Commission's report The Electrification of the Transport System. The power of a certain electrical vehicle charger (EV charger), also known as electrical vehicle supply equipment (EVSE) and the battery determine the charging speed. Ignoring the limits can damage the battery.
Charging stations offer alternating current (AC) and direct current (DC) power. The grid provides AC power, but EV batteries can only store power as DC. The location where the power is converted determines the difference between AC and DC charging. EVs have a built-in converter, the so-called "onboard charger". Stations offer AC/DC slow chargers (Level 1 and 2) for two-wheelers, three-wheelers, and cars; and AC/DC fast chargers (Level 3 and 4). The usual AC charging speed is 22 kW, generally used to charge two-wheelers, three-wheelers and cars at home or work. Public stations provide fast charging. DC chargers are bigger and faster. Only DC/Level 4 allows for bidirectional charging, i.e. that power can flow to and from the vehicle. With the help of vehicle to grid (V2G) technology, EVs can be used as energy reserves. They can store and secure renewable energy and give it back to the grid when needed, usually at high priced peak times. EV operators may enjoy lower charging prices by allowing their batteries to be used as flexible energy containment reserves.
Wireless is probably the simplest way of charging, as the technology avoids having to plug vehicles into charge points. The idea is for pads to be installed beneath where you park or just stop briefly, e.g. at home, work, supermarkets, drive-throughs and even traffic lights. However, wireless charging is in its infancy.
We need to ensure safety too. Li-ion cells – the most likely future mainstream battery technology – overheat when overcharged creating damage and a risk of explosion and fire. They lose capacity permanently, when drained out below a critical level. An important component of the battery is the battery management system (BMS). The BMS measures the state of charge (SOC) to keep the charge within specific threshold limits ensuring optimal performance, life, and safety. The BMS also does cell balancing to avoid that some cells get stressed which can reduce life cycles. The BMS decelerates charging to keep cell temperatures within a safe limit. During a fast charge, about 80% of the battery gets charged in one-third of the charging time with the remaining 20% taking longer because of cell balancing.
Several international bodies govern the standards of the wide variety of charger types that refer to the output socket and the connector used by a charger, as well as the high-level communication protocols between the charger and the vehicle, required by Level 4/Mode 4 charging. The International Electrotechnical is the leading organization for EV charger standardization. Standards are generally adopted by different trading zones and nations and efforts of consolidating standards are underway.
Private charging infrastructure
The study Charging infrastructure for electric vehicles in city logistics found that in the case of Amsterdam, "a total of almost 40,000 charges are expected per day, more than 90% of them involving delivery vans. Generally speaking, the greatest demand for electricity for charging occurs at business locations and depots – usually on industrial sites – (according to the model, 78% of the charging demand comes from trucks and 44% comes from delivery vans), spread out during the night when vehicles are parked. The largest number of charging stations appears to be required for delivery vans parked in residential areas at night."
Electrifying fleets requires a broader smart grid-strategy and partnerships with agencies. UPS reports that their older legacy facility in London had not enough power but required a significant infrastructure upgrade. The small packages company secured funding from the United Kingdom (U.K.) Office for Low Emission Vehicles and is also working with other partners to make it easier to share costs for future infrastructure upgrades. This project is part of a broader smart-grid initiative that provided building efficiency upgrades, including onsite energy storage batteries to spread charging throughout the night to maximize the available power during the day for daily business operations. UPS is close to deploy an EV and associated infrastructure at similar upfront costs to an ICE vehicle. In the U.K., the company has pledged that one-fourth of the annual vehicles purchased by 2020 will use alternative fuel or advanced technology, and one-fourth of its electricity will come from renewable energy sources by 2025.
FedEx also ramps up its charging infrastructure. "Through a new agreement with Chanje Energy, the company plans to electrify 42 FedEx stations in California, making it one of the largest deployments of integrated charging infrastructure by a single commercial fleet to date," reports Robotics and Automation News. Deutsche Post DHL Group has installed about 13,500 charging stations at its depots and delivery bases. The company operates the largest private charging network in Germany. In 2019, Germany had about 20,650 public and semi-public charging points, according to the Bundesverbandes der Energie- und Wasserwirtschaft (BDEW – the German association of energy and water industries).
A much bigger challenge represents the charging infrastructure of heavy-duty vehicles. There are zero charging points available that are equipped with 500kW or more chargers which would meet the energy and power requirements of these vehicles, according to a study published by ACEA in March 2020. By 2030, we require at least 20,000 high-power public charging points along European highways to power the estimated 200,000 battery-electric heavy-duty vehicles of more than 3.5 tons in weight that will be driving on Europe's roads.
Energy-as-a-service
Innovative business models have emerged that offer energy-as-a-service, most of which are based on battery swapping. Third parties that own the batteries replace drained ones with fresh charged batteries when needed. Total cost of ownership (TCO) alone will not be able to accelerate adoption. The higher upfront costs compared to ICE vehicles remain a barrier, for instance for smaller trucking companies that often operate old vehicles. The battery constitutes 30-40% of the cost of an EV. Taking the price for the battery out of the vehicle purchasing equation reduces the upfront burden.
Battery swapping allows for almost 'instant' repowering of BEVs without human intervention through fully automated systems. Swapping a battery pack can take less than a minute and is 20 times cheaper than fast charging, example BattSwap. A BattSwap station can serve up to 100 vehicles. Ashok Leyland, an automobile company headquartered in Chennai conducts the country's first battery swapping bus project in Ahmedabad, India in collaboration with Sun Mobility. Swapping also reduces downtime, saving e-rick drivers in India 3-4 hours, thus raising their earning potential. Finally, the battery swapping concept allows fleet operators to participate in the EV charging opportunity, offering energy reserves in peak times or storage possibilities for renewable energy.
Companies that electrify their fleets are advised to look at the opportunities and review their practices. Purchasing the same vehicles out of habit may not yield optimal results. It is sensible to change the approach, especially if municipalities install zero emission (ZE zones) and traffic-restriction zones to reduce pollution but also traffic itself. This, suggest the study Charging infrastructure for electric vehicles in city logistics, commissioned by Topsector Logistiek. The study also recommends to support businesses in redesigning their logistics.
The study finds that: "Operationally speaking, a lot is already feasible with the next generation of BEV delivery vans and box trucks. This depends on the segment. E-commerce, home delivery of food products, delivery of fresh produce, catering and parts of building logistics are quite feasible in terms of their journey profiles." We need also to pay attention to those that make a living with relatively old delivery vans as subcontractors in retail, the construction sector or with parcel deliveries, as this group has limited access to funding BEVs but faces the challenges of ZE zones and other restrictions in an increasing number of cities.