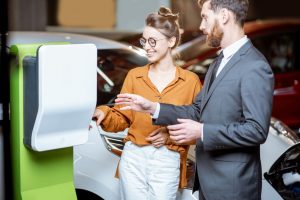 #6 of 7 articles about the electrification of goods transport
57% of British people would consider purchasing an electric car if it were available at the right price. This finds a YouGov survey. 73% of respondents aged 18-24 would consider the option. The menu of regulation and incentives to achieve economic parity between electric vehicles (EV) and internal combustion engine (ICE) powered transport is long. The policies and programs are reginal, e.g. on a European level, national and local. The examples of government measures outlined in this article demonstrate the commitment of the public sector to accelerate the energy and transport transition.
Through strong backing from its New Electric Vehicle Policy, China has taken a lead over the rest of the world in EV adoption. Now, others are following. Most European Union (EU) countries grant tax reductions or exemptions for buyers and owners of EVs. 12 EU members offer bonus payments or premiums to buyers. Publications, like EV and EV Charger Incentives in Europe: A Complete Guide for Businesses and Individuals, lists of vehicles eligible for grants, websites for applications and tax calculators help to compare options and navigate the landscape. Vehicle manufacturers and dealers assist as well.
Governments on all levels can accelerate the adoption of electric transport and logistics in multiple ways. Indirectly by introducing pollution reduction regulation and measures, like low emission zones (LEZs) and areas with restricted traffic. Through incentives and tariffs governments aim at supporting the development of the national EV supply chain network. Grants and tax exemptions and reductions reduce the upfront vehicle costs, the costs for batteries and charging stations and the cost for charging itself, which makes electric transport not only economically viable but an attractive alternative to ICE vehicles. The government support can be temporary as prices are in decline. As an example, between 2010 and 2017 battery technology cost have dropped by 79%, while energy density improved by 5-7% per year.
Adoption targets
Change starts with a vision and a goal. The German government aims to have up to 10 million EVs and one million charging stations, and Spain five million electric vehicles on the nations' roads by 2030. According to the 2018 strategy The Road to Zero, the United Kingdom (UK) government wants "to see at least 50%, and as many as 70%, of new car sales and up to 40% of new van sales being ultra low emission by 2030".
"More than a dozen countries, mostly in Europe, have proposed a timeline to phase out new sales of fossil fuel passenger cars or to only sell zero-emission models by 2050. Norway has the most ambitious target, aiming to achieve a 100% electric vehicle share of new passenger vehicle and light-duty van sales by 2025, according to the Update on the global transition to electric vehicles through 2019. "As of May 2020, none of the countries established legally-binding 100% zero-emission requirements with enforceable fines, but several, such as France and Spain, have taken official steps toward that goal. As shown, few targets have been proposed to electrify the heavy-duty sector," continues the briefing.
Pollution reduction regulation
"California air quality officials have adopted their biggest pollution-cutting regulations in more than a decade," reportsthe Los Angeles Times on August 27, 2020. The rules include stringent new emissions standards for heavy-duty diesel trucks and force ships docked at ports to plug into electric power or scrub their exhaust. Diesel trucks emit nearly one-third of smog-forming nitrogen oxides and over one-quarter of diesel particulate matter in the U.S. state. Oceangoing ships are expected to surpass trucks to become Southern California's largest source of nitrogen oxides by 2023.
In Europe, 10 countries have enforced Low Emission Zones (LEZs), according to Group Renault's website. LEZs allow only the least polluting vehicles to drive on the roads. They also force logistics companies and other fleet operators to adjust their current operating models. The goal is to reduce fine particle emissions and greenhouse gases. These zones require fleet operators to take measures, which include the deployment of bicycle couriers, electric scooters, plug-in hybrids (PHEVs), and electric vehicles (EV), also called battery electric vehicles (BEV).Making cities environmentally friendly is part of the goals of smart city concepts. LEZs can include Eco-Districts, which promote soft mobility, also called active mobility. Soft mobility includes all ways of getting around by cycling, walking, roller-skating etc. Some experts extend the definition of LEZs and expand it to any kind of clean movements, like electro people mobility and electric commercial vehicles.
Electric vehicle manufacturing
In India, the government has launched the Phased Manufacturing Program (PMP) to localize the EV supply chain network. A basic customs duty structure encourages domestic manufacturing of EV related components. The components include chassis, EV motors, on-board charger, and battery packs. The need for high-quality batteries and the government's push for localization has led to several domestic companies entering battery pack manufacturing.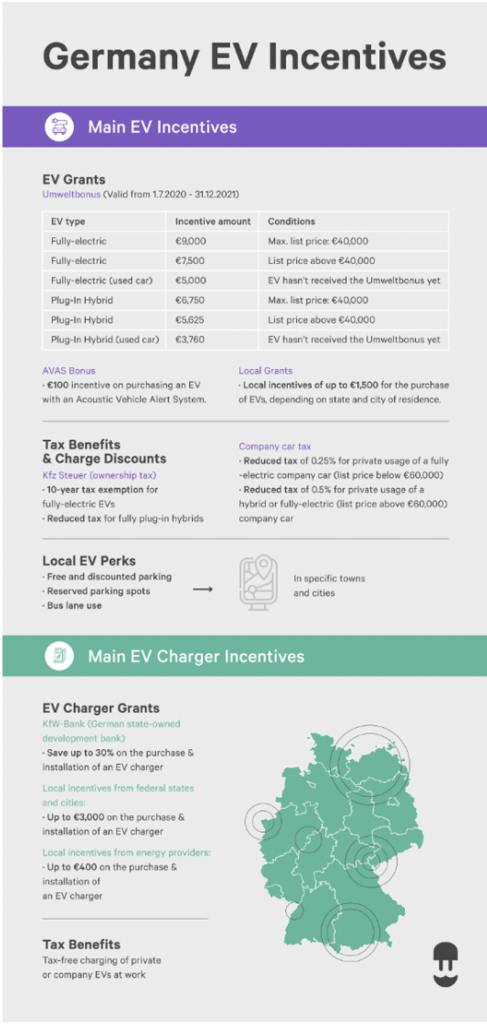 Germany offers subsidies for manufacturers as part of a bonus program for 2020 and 2021. The goal is to drive innovation targeting new technologies, processes, and plants. Germany will ramp up EV battery production with the help of state subsidies. The German government will invest over €1.5 billion in battery cell research and production, starting with a €300 million grant awarded to battery company Varta. "The funding is the first step in a new initiative set up under the European Union's Important Project of Common European Interest (IPCEI) program," reports The Driven. "Investment in electric vehicles in Europe is now outpacing China. Volkswagen alone is investing €60 billion. Brussels-based non-profit Transport and Environment said that the current level of investment in EVs in Europe is nearly 20 times higher than when the group made its last calculation two years ago," writes Bradley Berman in Electrek.
Batteries and charging infrastructure
UK prime minister Boris Johnson's vision is a land filled with EV chargers which sees everyone in England and Wales within 30 miles of a public charging point. An extra £500 million for EV charging infrastructure funding on top of the £400 million charging fund and the £80 million in the Road to Zero plan earmarked for EV charging should help to achieve this goal. Through the Energy Saving Trust, Scottish individual buyers of eligible EVs receive a grant of up £300 for the purchase and installation of one EV charger at their home. A grant to fund 75% of the costs of the procurement and installation of on-street electric vehicle charge points in residential areas has been made available to local authorities in the UK through the Office for Low Emission Vehicles (OLEV). Local authorities can receive up to £6,500 per charge point, up to maximum of £100,000 per project.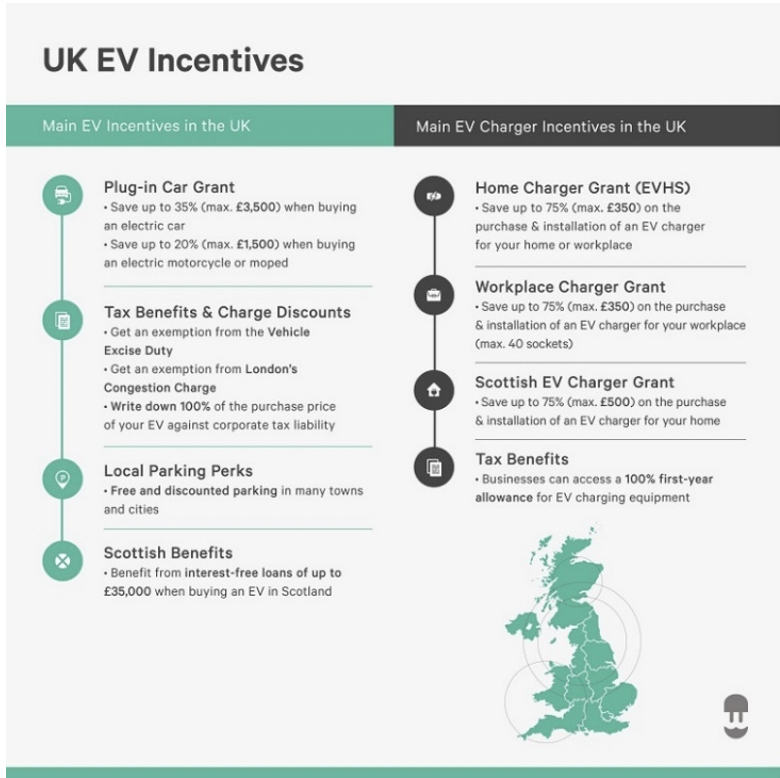 As part of the 2030 Climate Plan and the post-corona economic stimulus package, Germany will spend €2.5 billion on the expansion of the charging infrastructure and battery cell production to reach the goal of one million charging stations by 2030. The German government also wants to leverage existing infrastructure and announced plans that will require every single gas station in the country to also offer EV charging.
EV economic parity
Higher upfront costs of EVs compared to ICE vehicles are considered a hurdle to adoption. Policymakers can bridge this gap through the provision of funding. Germany has increased funds for purchases of electric busses, trucks and charging infrastructure until the end of 2021. €1.2 billion have been made available to private and municipal operators to transition to an alternative driving system to make urban transport healthier and more environmentally-friendly. Fleet exchange programs aim at avoiding that small and medium-sized and social services cut back on the renewal of their fleets because of Covid-19. One of the programs launched helps smaller companies that use EVs of up to 7.5 tons.
With the Plug-in Car Grant, UK buyers of an electric van can receive 20% of the purchasing price, up to maximum £8,000. In Northern Ireland, a maximum grant of €3,800 is available for buyers of electric commercial vehicles. Tax reductions and exceptions and reductions help to reduce the total cost of ownership (TCO). In the UK, 2020/2021 zero emission electric vehicles are exempt from tax and will pay only 1% in 2021/2022 and 2% in 2022/2023.
In May 2020, French President Emmanuel Macron announced an €8 billion package to revive the country's auto industry in the wake of the COVID-19 pandemic. Central to the plan is increasing the production and sales of electric vehicles. Consumer incentives to an electric car will increase from €6,000 to €7,000.
"In May 2018, the California Public Utilities Commission approved $768 million in transportation electrification proposals from PG&E, San Diego Gas & Electric, and Southern California Edison, which includes installations for 15,000 medium and heavy-duty vehicles across Northern and Southern California. Nationwide, as of July 2018, more than $1 billion of electric company investments in customer programs related to transportation electrification have been approved," informs Curve Ahead: The Future of Commercial Fleet Electrification – A 2018 UPS/GreenBiz Research Study.
Free parking and other benefits
In the UK, green number plates are envisaged to allow EV owners and operators to benefit from local incentives, including free parking, the use of bus lanes and the access to areas that are free of ICE vehicles. EVs and PHEVs are exempt from London's Congestion Charge obligation until 2025. Depending on the implementation of the law in the different federal states and cities, German EV drivers can enjoy similar specific benefits until 2030.
A short article cannot do justice to all the governments efforts and measures to accelerate the energy and transport transition and transformation.
Although one can argue that awareness is lacking and processes to understand and apply for benefits and advantages could be made easier, it is hard to ignore the electrification effort. Governments do their job. It is up to us, the users of vehicles to contribute our share too. Leaders lead by example, professionally and privately. We can change the world and slow down climate change. "When the majority of your core team members are driving EV's for personal use, it helps to generate credible discussion about what's possible," said Mike Whitlatch, vice president of energy and procurement at UPS.