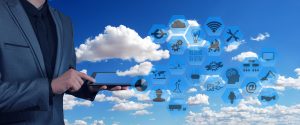 #3 of 7 articles about impacts of Covid-19 on supply chain innovation. 
Disruption makes champions. The most iconic unicorns have been created during a recession: Apple, WhatsApp, Slack, Microsoft, Pinterest, General Motors, CNN, IBM, Uber, Groupon, Instagram, and more. Around one third of the 100 companies listed on the Forbes annual America's Most Promising List were thought and launched in the gloom and doom days of the global financial crisis (GFC). Covid-19 kept us home and made businesses and citizens digitally dependent. Through this, digitization accelerates. The result is an innovation push. Companies are innovating into an opportunity created by a defreeze of structures. Behavioral changes, technological progress and entrepreneurship are shifting, destroying the obsolete, preparing for the new.
We are living through the Fourth Industrial Revolution, with opportunities for economy and society across the globe. Data opportunities. Integration opportunities. Analytics opportunities. Automation opportunities. New business model opportunities. Opportunities for governments to improve their services. Opportunities for nations to set up new industries. Opportunities for individuals to improve their lives.
The 'big defreeze'
The world is constantly changing. The magnitude of change depends on the state of the ecosystem. In smooth times things are evolving gradually. Mainly through incremental innovation. But shocks and high volatility drive disruptive innovation and radical change. A crisis breaks barriers, such as skepticism and resistance and brings the need for new ways of doing to the forefront.
What about the fear of change you may ask? The ancient Greeks called it 'metathesiophobia': 'meta' means change and 'phobos' means fear. When Covid-19 meets the Fourth Industrial Revolution, fear of sickness and death, isolation and loneliness, and financial loss and bankruptcy overwrite the fear of technology and change. Covid-19 helps to overcome personal resistance and organizational inertia.
Entrepreneurs and leaders in the public and private sectors capture this opening to drive reforms, make organizational changes, and the launch of new business models.
· Digital tools have proven to be useful in this moment of crisis. We can easily imagine how the world during Covid-19 would have looked like without internet, connectivity, computers, and smartphones. Even though some of the digital tools have failed us, this experience drives a mindset shift which will break skepticism and reduce resistance that stand in the way of change and innovation.
· The level of digitization in our homes has increased. Video conferencing equipment and technology to access the online economy became a necessity. New devices, websites and services emerged. Citizens have changed how they view the digitization of the world. How they use digital devices and services. Consumers have altered shopping behavior, citizens the way they live.
· Governments will relax regulation of digitization and digital businesses. They have experienced themselves that digital tools can help to serve citizens. This has brought more understanding and willingness to drive digitization across the public sector but also to help the private sector to digitize the economy and society in its entirety.
The interest in digitization has increased across the society. Compared to six months ago, people have a much better picture of what digitization can bring us. Businesses see the opportunity to differentiate, governments the possibility to improve their public offerings, and citizens value and enjoy the new services. Digitization can bring a broad range of benefits for all. I imagine opportunities on multiple layers, including on company level, on the level of nations, and between different countries.
The flavors of the leap
On company level, I expect lots of opportunities resulting from the process of digitization. We are already seeing an increase in the interest in visibility solutions. The confusion around personal protection equipment (PPE) supply has unveiled the lack of transparency in essential supply chains. Visibility is data, and data comes from existing systems, sensors, and big data sources. This drives a lot of work around the integration of different software modules and small as well as big data into comprehensive and complete data lakes. Integration prepares the ground for analytics, driving opportunities in artificial intelligence, machine learning, deep learning, and natural language processing (NLP). With this development towards much more descriptive, predictive, and prescriptive analytics, innovative products will emerge, such as innovative supply chain finance solutions. Other areas where I expect lots of innovation are e-commerce, retail, and manufacturing. Also, we need to prepare for the next outbreak or even regular pandemics in a way that we can continue to operate, as an economy but also as a society. Now, there is lots of talent available to strengthen the teams to drive innovation.
Nations face new opportunities to grasp additional supply chains. Some camps are saying that supply chains need to leave China, but the Chinese value proposition is hard to beat. A Nikkei survey conducted between 25th and 28th of May yielded that 65.3% of Japanese presidents and top leaders want "the ability to switch sources with greater flexibility in case of a crisis, and 57.1% indicate they will stop purchasing from a single country in order to diversify sources". But this flexibility comes at a cost. With the economic slump at the horizon, we will see lots of free capacity in China driving prices down. This makes it even harder for companies and countries. Those countries that wish to attract supply chains from China need to create conditions that allow companies to match the declining price levels. This requires that countries need to invest in building high performance ecosystems. Businesses seem not to be in a hurry to move. Alan Beebe, president of the American Chamber of Commerce in China says that "In contrast to some global narratives, our China-based data suggests that the majority of our members will not be packing up and leaving China anytime soon". Also some leading Japanese enterprises said "Leave China? No thanks".
On international, i.e. regional, and global level, I see opportunities in the field of coordinating the supply of essential goods and in environmental protection. We should not and probably cannot produce in each country in the world all essential goods. The solution is not moving backward but forward. The solution is higher transparency and the use of technology to scale up or replicate capacity quickly. Even if we had had PPE manufacturing in each country, the needs caused by Covid-19 would have overwhelmed available capacity. In the field of environmental protection, we need innovation in technologies that help us to reduce carbon and other emissions, and plastic pollution. International collaboration helps drive innovation, run experiments in parallel, and develop a policy framework that protects all states and citizens in the world. We need to overcome the zero-sum logic and move to true win-win approaches. I cannot believe that when one country wins others always lose. How could the global economy and most of the countries grow with all the migration of production across the globe when this is a zero-sum game? We must tackle the true cause, the uneven distribution of wealth in the world. Considering the challenges, we as humanity are facing, we need increased alignment. This includes close collaboration in moments of crisis and international collective efforts to reform our global institutions. We need those to hold the different nations together and put the necessary mechanisms in place to protect ourselves and future generations.
This moment of opportunity does not come without downsides and risks. With the rise of digitization also the cyber risks are growing. The digital economy's impact on our physical and mental health remains to be seen. Studies are warning of the consequences of electromagnetic pollution. Scientists alarm about the significant increase in electromagnetic radiation through 5G. The Covid-19 outbreak is a human tragedy. It placed millions out of the job. It may push 500 million into poverty. We may face the first Great Depression of our lifetime.
Smart governance on local, regional and global level can help to relieve the pain caused by Covid-19. There are silver linings. The belt and road initiative (BRI) may provide a boost to the global economic recovery. The World Bank estimated pre-pandemic that BRI transport projects in Asia can boost gross domestic product (GDP) up to 3.4%. Innovation can help with new digital products on the supply side, while reducing carbon emissions. Provided we power the data centers, equipment, and devices with renewable energy.
In the field of environmental protection, I see a lot of opportunities. My vision includes the shift from the physical world to the digital space. A migration of highly carbon intensive activities, such as mobility towards digital experiences and solutions will help to preserve the planet for future generations. This transition requires a focused and structured approach. Europe's transition to carbon neutrality by 2050 requires at least €1 trillion over the next decade, plus more than €260 billion annually. This is a massive undertaking. But change has always been and will always be a challenge. But the defreeze and opportunity brought about by Covid-19 truly prepares the ground for improving what we have built so far.
A crisis is a moment of truth. A true opportunity to change what needs to be changed. A crisis can bring new leaders. Leaders that take the new and better roads. May this moment of global solidarity in pain, turn into a movement for positive change, like the return to multilateralism and global collective action as achieved with the Paris Climate Agreement, signed in 2016. Because at the end, all the opportunities we capture should serve us and improve our lives, without endangering the future of our children.