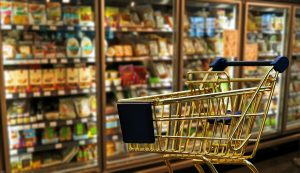 #1 of 7 articles about the impacts of Covid-19 on supply chain innovation
With the Covid-19 outbreak, the supply chain and logistics sector and its innovation became hot topics. Now we know, supply networks make our world. They are the backbone of our economy and society. The supply chain is the economy and the economy the supply chain. Today, I spoke with a friend in London who told me that he is incredibly happy that they have never experienced any shortages in their supermarkets. Why did they doubt in the first place? Supply chains perform extremely well, even during such special times like Covid-19. Nevertheless, supply chains and logistics have their vulnerabilities and risks to be mitigated.
Supply chains are vertical, i.e. a food chain differs from an electronics one and, hence, are impacted in different ways, But, I would like to point out three causes for vulnerabilities that can cut across many chains: The 1st is lean management, 2nd complexity, and 3rd lack of visibility. The following analysis shows the nature of the weaknesses and potential mitigation actions.
Lean management
Lean management helps to reduce costs by eliminating redundancies and buffers. But by doing so we increase the level of vulnerability. Hence, it is a balancing act. Supply chains are material in motion, which is another way of saying cash in motion. With buffers you achieve more resilience but with too much of it you may go bankrupt before the next pandemic.
The same is true for the diversification of suppliers, i.e. for multi-sourcing. The more suppliers a company has the lower the risk of disruption but also a company's purchasing power and chance to achieve the best purchase prices for their materials. Furthermore, during the Covid-19 pandemic, every country in the world is affected in one way or another. Therefore, the only difference between single and multi-sourcing is whether to face trouble with one or multiple sources.
Relocation is also not the answer, as sites at home may be hit too. Furthermore, often raw materials remain to be brought into the country anyway. Therefore, I believe the call for relocation is just another form of protectionism. Do we really think that each country, from Brunei to Lebanon, from Malawi to Iceland, from Canada to Uruguay should produce their own essential goods? And what are these essential goods which we will need in the next crisis? And what is the price to pay to have stocks which we may never need? I believe in a smart global platform. Technology can bring the connectivity and transparency that helps us to make global essential goods supply networks a vital reality.
In supply chain and logistics, we can expect innovation in the form of global marketplaces powered by data sourced from different systems, integrated in massive data lakes that we leverage with the help of artificial intelligence-driven analytics. With increasing transparency, we will be able to gradually shift the tension between cost reduction and risk management towards a concept of lean resilience. 
Complexity
Vulnerability can also be caused by supply chain complexity. I.e. through a high number of suppliers involved and extended over numerous tiers within a supply network. With the advances in technology, the number of suppliers has risen tremendously, from tens to hundreds to sometimes thousands. There are various reasons for this trend, including the limitations of suppliers in their capability and capacity, the growing range of products and options to enlarge the offer for customers, the wish for proximity to the dispersed and decentralized manufacturing sites to reduce cost and risk, and the need for multi-sourcing strategies.
Today's level of supply chain complexity can only be handled with transparency and visibility established through extensive mapping of the players and the continuous monitoring and evaluation of the partners in the network. Today, 24/7 supplier monitoring has become accessible and affordable. However, more innovation can be expected as the consequence of the Covid-19 supply chain slowdown.
Lack of visibility
The lack of internal and external supply network visibility is another potential weakness. In fact, the lack of data and real-time analytics prevents companies from knowing the location and conditions of their assets and inventories and what these are facing in their supply chain ecosystem.
Companies that have an in-depth knowledge of their internal and external situation can make timely and fact-based decisions. Complete and clean data and real-time analytics solutions are the prerequisites of a holistic understanding of the supply chain ecosystem and effective supply chain decisions. But organizational structures also play their role. Data and information can be aggregated and distributed across organizations and networks so that decisions can be made collectively between local and global experts.
We can expect accelerating innovation to enhance visibility and improve decision-making through data management, sensors, analytics, and collaboration platforms. Managing risk will be increasingly a matter of digital savviness. So will be a company's ability to protect itself against cybercrime.
In summary, supply chain professionals are aware of the vulnerabilities and will put more technology to work once solutions have matured. Supplier mapping and monitoring, digital collaboration platforms, intelligent internet-of things enabled devices as well as data management and analytics will play a critical role in supply chain management going forward.
We will observe some short-term adjustments, like the rationalization of stock keeping units (SKUs). The shortening of planning cycles from weeks to days, and the rollout of rescue packages to ensure that the critical suppliers survive. A manufacturer or brand is only as strong as its core supply chain. Mid-term the investments in technology and new systems will be reviewed. Companies will accelerate their preparation for the era of exponential digital growth.
This can help to build the foundations for managing the world in a smarter way. This can finally allow us to have the cake and eat it. To benefit from scope, skill, and scale, while ensuring sufficient supply for everyone. To further reduce our costs, while mitigating the risks. Covid-19 has opened our eyes to the digital possibilities, let us now open our minds to capture the opportunities.