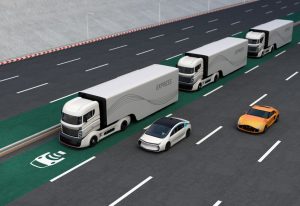 #7 of 7 articles about the electrification of goods transport
Electric vehicles (EVs) in goods transport bring about economic benefits. "The idea of being green has not only a long term effect on tackling climate change but also a short term business reward as fuel cost accounts for 39% to 60% of operating costs in the trucking sector (Sahin et al. 2009). EVs are much more energy efficient than the conventional petroleum-fuel powered and therefore are expected to bring considerable energy savings to urban freight," states the paper The electric vehicle routing problem.
Beyond the economic benefits the electrification of transport has additional advantages. "Although electrification will surely have its own set of social and environmental challenges, it will allow us to reduce the impact that our transportation systems have on the environment, to free ourselves from our dependence on oil, to preserve the diversity of our ecosystems, and to create calmer, quieter, and cleaner cityscapes," we can read in the foreword of The Electrification of Transportation – A Solution for the Ecological Transition.
These are more than enough reasons to explain that the public and private sectors are gearing up to support the electrification revolution in goods transport. The energy industry will transition to cleaner sources in parallel. Both industries are under pressure to help reaching the climate goals. So far, two opportunities have not been covered in the previous articles of this series about the electrification of goods transport. Namely, the electrification of long-distance road transport through electrified roads, and electric air movements and deliveries of goods. Both transport modes are worth a closer look.
Electrified roads
In Germany, 60% of heavy truck CO2 emissions occur on only 2% of the road network, according to Siemens. Studies suggest that 4000 kilometers of the German autobahn network will be electrified by 2030 at relatively low CO2mitigation cost. Catenary electrified trucking has emerged as a potential solution to significantly reduce cost and carbon emissions in long-distance road transport. Siemens claims that its eHighway technology can save a 40-ton truck €20,000 in fuel cost over 100,000 kilometers of operating. Fully electric trucks could save even far more. The Siemens technology, which is designed to work in conjunction with a custom Scania hybrid truck developed by VW Group has been tested in Sweden and California, and is under trial in three geographic areas in Germany.
Although the technological development is not yet completed, highway electrification seems to be a feasible approach in long-distance road transport to reach climate goals short term. Field tests are necessary to understand how to integrate the new mode into the roadside environment, and logistics and traffic flow, as well as to stress-test power supply networks. The direct use of electricity via overhead lines shows the lowest long-term costs of decarbonizing long-haul transport, while the investments for the energy supply infrastructure – which is critical for the success of the solution – are moderate from a long-term cost perspective.
Drone deliveries
Unmanned aerial vehicles (UAVs), specifically drones are a less investigated option to reduce carbon emissions in goods transport. "When you have low-carbon electricity and you're moving small packages, drones could have the lowest carbon footprint per package delivered," says Costa Samaras, associate professor of civil and environmental engineering at Carnegie Mellon University. "It's much greener to have a drone flying through the air to deliver you a set of headphones than for you to get in your gasoline-powered car or even your electric car and drive to the store and get it." As with electric trucks and vans, it is as much about the technology as about the network, about the way how the electric unmanned aerial vehicle (UAV) are used. "A drone can't really compete with a very full truck making 100 deliveries in a fairly small space," says Anne Goodchild, director of the supply chain transportation and logistics center at the University of Washington. "We shouldn't just compare drones versus trucks." Different modes of transport have their specific places in the mix. "It's important to remember these modes can be used in complement," explains Anne Goodchild. It depends on the density of consignees. "The farther apart those customers are, the less room for consolidation, the more competitive a drone can be." However, the combination of drones and parcel lockers offers an additional opportunity. By adjusting the networks to new technological opportunities, and optimizing the electrified system across the different options, we can achieve the most sustainable outcomes.
It is not any longer a question of technology and the will to implement but of knowledge, creativity and the alignment of efforts across the different participants and stakeholders in this global change program that will make the big difference. The magnitude of change requires collective and focused action to transform the current wide-spread high emission models into the much more sustainable transport and logistics practices, modes, and networks.
Systemic change requires collaboration, internally and externally. Cross-company teams allow for understanding the requirements and implications of the change. This avoids surprises, resistance, frustrations, and tensions. Where a fleet team may experience a decrease in fuel cost, a facilities department sees rising electricity cost. Externally, suppliers and local, state, and federal governments need to be engaged. Utilities and system vendors need to be involved too. Academic institutions can help and the buy-in of non-governmental organizations (NGOs) and community groups is also required. According to Mike Whitlatch, vice president of global energy and procurement at UPS, the first point of engagement to realize electrified urban goods deliveries should be with local utilities to plan for infrastructure upgrades, followed by vehicle manufacturers, then the system integrators who are the hardware and software vendors providing control systems that interact with the power grid.
We are at a critical point in the history of goods transport. Technological means and governmental support have reached maturity and critical mass. We can change the world if we move beyond our comfort zone.
Imagine a future where our grandchildren shake their heads about the fact that we exposed our lungs to high levels of pollution and deliberately accepted climate change, putting our lives and the future of humanity at risk through our self-selected way of living. Envisage a future in which our grandchildren cannot understand anymore that having two or three fossil fuel cars that destroy our ecosystem can be seen as a symbol of societal achievement and prosperity. Picture a world where people give instead priority to well-being and health. A future based on a smart society concept. Where we live in a world that has transitioned from the wasteful and toxic take-make-dispose model to the reuse-based circular economy. Where everything we are making is reused, remade or recycled. Where harm to planet and people is avoided, and resources are used most efficiently or even endlessly, and in a socially, and environmentally friendly way. Circular thinking, design and action offer solutions for many challenges in today's world, including the electric vehicle battery challenge. I am convinced that the electrification movement is reaching its tipping point and is about to take off. But the electrification of transport is only one step towards a healthier world. The next major move and change initiative will be the circular revolution. A world where human life is well integrated into the nature which we need to survive. It is time to buckle-up.