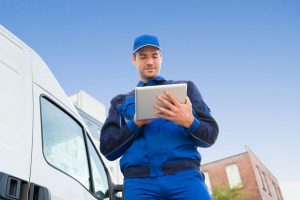 #3 of 7 articles about the electrification of goods transport
End-to-end logistics, i.e. the storage, handling, and movement of goods from suppliers to manufacturers to customers requires operating major fleets, either owned or subcontracted. A high decarbonization impact has the electrification of urban fleets, taxis, mobility-as-a-service vehicles, and public transport. Urban freight represents 10 to 15% of vehicle equivalent miles and is responsible for 25% of urban transport related CO2 emissions and 30 to 50% of other transport related pollutants, like articulate matter and nitrogen oxide. Furthermore, load factors for delivery vehicles in cities are low, e.g. 38% for vans in London, according to Urban Freight – Research & Innovation Roadmap, delivered jointly by the European Road Transport Research Advisory Council (ERTRAC), and the Alliance for Logistics Innovation through Collaboration in Europe (ALICE).
Urban delivery efficiency improvements can be achieved through a long list of measures, ranging from introducing intelligent traffic and transport management to enlarging loading and unloading space in cities. Reducing emissions comes mostly about by new vehicle technology. The optimal short-term available option is the use of electric vehicles (EVs). Battery powered e-vehicles produce zero emissions and are quiet. The short ranges, long charging times, insufficient charging infrastructure and limited payloads are not in the way of the use of e-mobility for short-haul shipments and deliveries in urban areas. Technology for urban electric vehicles, like cargo two-wheelers and three-wheelers, cars, and vans, is available and getting close to fulfilling the needs of fleet operators. "The relatively high purchase price of this form of transport is offset by low maintenance and operation costs due to its efficiency and robustness," states the white paper Sustainable Fuels for Logistics published by Deutsche Post DHL.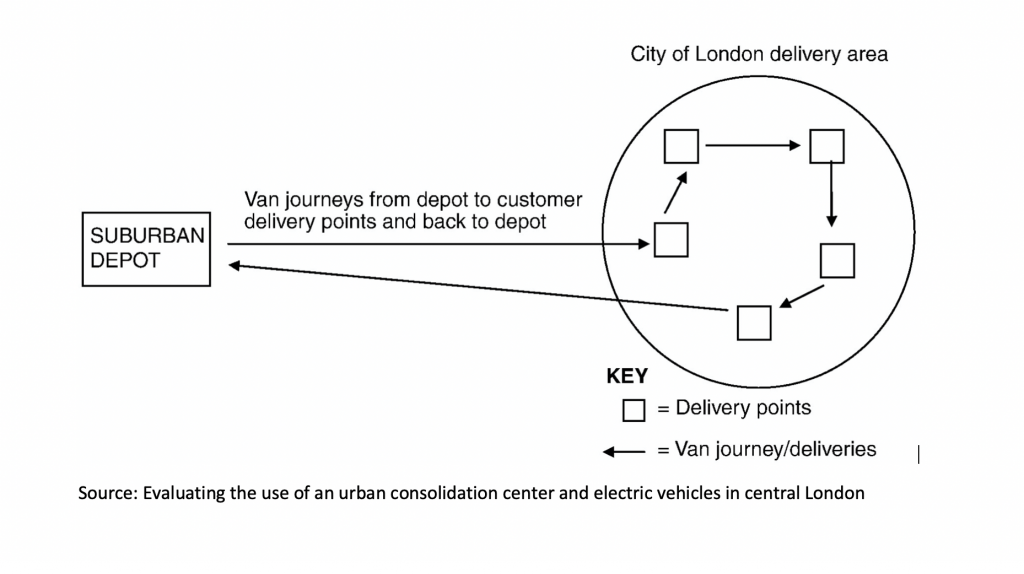 Reducing congestion, inefficiencies and emissions requires to reduce the kilometers traveled through network redesign and replace internal combustion engine (ICE) vehicles by zero-emission modes of transport. Advanced urban logistics concepts consist of three main components: the transport of goods to the cities, the distribution centers, hubs, or micro depots, and the last-mile part of the chain, i.e. the transport to the final consignee. It is the combination of zero-emission technology and modes, and new networks that will improve urban logistics. New "clean" networks are needed to respond to changing consumer expectations and behaviors that are driving time, quantities, and load factors down.
Redesigning urban logistics networks
Urban consolidation centers (UCC), located near the areas where the goods need to be delivered are a way to increase the efficiency of urban logistics and reduce kilometers traveled and emissions. The platforms enable higher loading factors of the vehicles that enter and leave the urban centers. In 2009, a UCC trial took place in the City of London. Instead of operating directly from a suburban depot, the delivery fleet consisting of electric vans and tricycles were departing from a micro-consolidation center near the delivery area.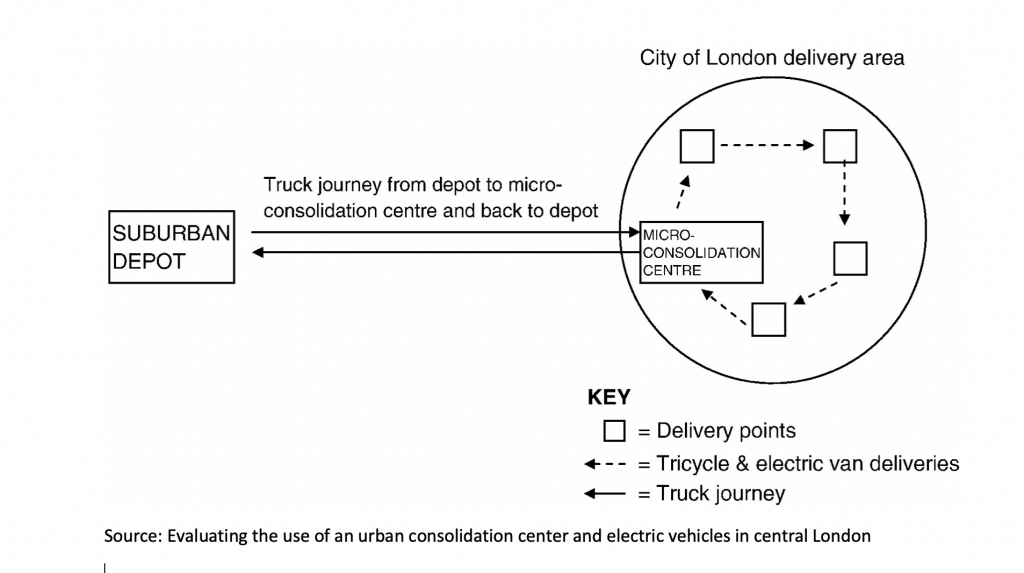 The project yielded positive results. "In terms of CO2eq emissions, these fell by 49% per parcel delivered between the suburban depot and the City of London, and by 83% per parcel delivered within the City of London compared with the situation before the trial. … Although the costs of the two systems are not available due to commercial confidentiality it is possible to indicate which cost components reduced and increased as a result of the new system."
Direction of change in cost components as a result of the new distribution system.
Cost component
Effect of new system on delivery costs
Total distribution centre operating costs
(including micro-consolidation
centre buildings and staffing)
Increase
Total vehicle capital costs
Reduction
Total vehicle fuel costs
Reduction
Total vehicle insurance costs
Reduction
Total vehicle excise duty costs
Reduction
Total vehicle maintenance costs
Reduction
Total vehicle driver costs
(number of drivers increased
but hourly wage rates decreased)
Slight increase
Source: Evaluating the use of an urban consolidation center and electric vehicles in central London
In 2012, UPS started an urban logistics initiative in Hamburg. Containers that are positioned at Bei der Stadtwassermühle and Welckerstrasse function as micro-depots which are stocked with parcels each morning. The goods are then delivered to shops, other business addresses and homes on foot, with the aid of handcarts or using cargo eBikes. A 2016 study by the Hamburg School of Business Administration estimates that the UPS City Logistics project saves around 78,000 km per year, as well as 14,000 liters of diesel, 37 tons of CO2 as well as other diesel-related pollutants. The concept has been rolled out to other cities across Europe and the world, including Frankfurt, Munich, London, Paris and Portland, Oregon.
In 2017, DHL has introduced the City Hub concept based on Cubicycles in Germany and The Netherlands. The City Hub is a customized trailer that can carry up to four containers. A van brings the trailer into the city center, where the containers are loaded on to Cubicycles for the last mile delivery. The Cubicycle is a cargo bicycle with electric pedal assistance which can carry one container with a load of up to 125 kg and one cubic meter in volume. In December 2019, the global logistics company announced the roll out of Cubicycles in New York.
Incremental impact can be achieved when goods carried by different logistics and transport companies are consolidated at a shared micro-consolidation center. Critical is the location of the micro-depot or city hub. The closer the platform is located to the delivery areas the more beneficiary from a cost and time perspective. A test in Germanyrealized a reduction of three tons of CO2 but not each of the five delivery companies was happy with the location. Those that are happy stay, those that are not satisfied will probably look for a more appropriate location for their city hub unless other incentives compensate for the location disadvantage.
Ecommerce innovators are working on similar networks. One idea is to establish smaller fully automated distribution centers for the handling and delivery of grocery products. Such next generation distribution centers may help the retail sector to enhance their supply chains and service offering to consumers. E-mobility can complement the concept with vehicles that drive into the buildings where batteries can be swapped during loading to ensure continuous operation – a "pit stop" in the race of last-mile deliveries.
Replacing ICE vehicles
In 2018, EDEKA, Germany's largest supermarket corporation has started testing the 25-ton truck with a refrigerated body in Berlin. The fully electric vehicle, with a payload of 10 tons was used to deliver fresh temperature-sensitive food from a warehouse on the outskirts of the German capital to supermarkets in the city. EDEKA was the first retailer and one of the nine companies that were participating in the first test phase. On August 6th, 2020 Mercedes-Benz announced the second test phase of eActros with some additional customers.
While trucks are still in their development phase, logistics companies have been using all-electric vans in pickup-and-delivery fleets for more than a decade. FedEx, for instance, has been using electric vehicles since 2009. Last year, the global delivery company has expanded its fleet, including 1,000 medium-duty electric panel vans. The delivery vehicles save 2,000 gallons of fuel and eliminate 20 tons of emissions per vehicle per year.
Electric scooters and electric cargo bikes also help to eliminate emissions, representing a cost and time effective way to deliver light weight goods in cities. In 2017, DHL Express stated that the company had replaced up to 60% of inner-city vehicle routes in some European countries with cargo bicycles. Rolling robots and delivery drones my also play their role in sustainable urban logistics, but so far these options are in their infancy.
What holds us back
According to a UPS/GreenBiz research study the main barriers are "Initial purchase price prohibitive" (55%), followed by "Inadequate charging infrastructure at our facilities" (44%), then "Inadequate product availability" (35%). Celine Cluzel, director at Element Energy, a United Kingdom and France based consultancy, suggests, "Companies have the opportunity to save a lot of money on the total cost of ownership, be ahead of the competition and take advantage of incentives to make the decision, thanks to the air quality agenda. They could also start to see an upside on insurance cost in time not going to repairs." Local, state or federal incentives, tax breaks and grant programs for both vehicles and chargers are put in place to support the electric movement. Chris Nordh, senior director of advanced vehicle technologies and energy products at Ryder says that "The utilities in California, for example, are being very progressive in regards to helping fleet operators adopt EVs, and they're paying for a significant part of the infrastructure in order to basically create a larger customer base and create more energy usage and at optimal times of day."
We require electrification at scale. E-mobility technology is available. Transportation companies are enhancing their electric fleets and urban delivery networks. E-commerce companies are looking for new models. With scale, cost for vehicles, batteries and charging infrastructure will come further down. We need a stronger push. "Effective policy measures have proved instrumental in making electric vehicles more appealing to customers (including private individuals and businesses), reducing risks for investors and encouraging manufacturers to scale up production (IEA, 2017a; IEA, 2018a)," states the OECD Global EV Outlook 2018 – Towards Cross-Modal Electrification. Programs can support and facilitate the collective effort of city authorities, companies, consumers, and citizens. Collaboration requires that the projects are simple, accessible and with low initial investment. Among the incentives are (shared) spaces for micro-depots and free charging of vehicles. It all starts, however, with moving out of the comfort zone of our daily operational routines.