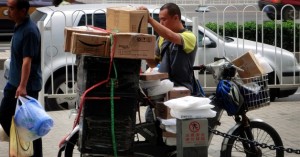 Yesterday we were driving cars to reach work, to go shopping, or leave on vacation. But all of that might change in tomorrow's sharing economy. Many of our fellow drivers have become "chauffeurs for hire" on platforms like Uber or Lyft. However, is another revolution just about to take off: "crowd-shipping", whereby every day drivers turn into micro DHL or UPS couriers?The sharing economy enables new ways of transportation by connecting those who need parcel deliveries with those who are on the road. The main drivers of so called "crowd-shipping" are the rapid growth in online retailing, the desire to find new ways of overcoming the traditional problems of 'last mile' delivery and increasing interest, in some socio-economic groups, in supplementing earnings with casual work. Global B2C online sales are expected to grow from $1 trillion in 2012 to around $2.4 trillion by 2017. In China alone the number of packages transported by express delivery surged by 820% in the six years ending 2014. Across the globe capacity of 'last mile' delivery systems will have to expand enormously to cope with the expected volume growth.
Crowd-shipping offers a means of better exploiting our under-utilized cars through picking up and dropping off parcels along the routes people are taking anyway. How does the model work? People offering to carry parcels (which we will call 'couriers') and those wishing to use the service download the app and register with the website, for example with a Facebook link. The user enters details of the parcel, its collection and delivery points and, in some cases, the amount they are prepared to pay for delivery. Potential couriers then bid for the work, competing on delivery time and cost. The user decides which bid to accept. The online platform gives the successful courier a parcel number, address details and access to a messaging service for communication with the user. Once the parcel is delivered, the recipient confirms receipt through the platform and the courier's account is credited with the agreed fee.
Companies providing online platforms for crowd-shipping differ in their market focus, although the described way of operating is similar. Some platforms cater more for professional couriers: for example, it is estimated that, 'at Zipments 95% of couriers are professional delivery folks with more than four years of experience'. Others like Rideshare, MyWay and Shippies rely on ordinary people. Deliv tends to specialize in deliveries from shopping malls of products that were either bought there or purchased online on a 'click and collect' basis.
In the United States or China for example, governments adopt to a large extent a fairly liberal policy to logistics innovation, though the German government's decision to ban Uber illustrates how a web-based application can be outlawed for essentially commercial reasons.
The legacy of the financial crisis in many countries has forced a lot of people to search for new ways of generating extra income or subsidising their travel costs. Crowd-shipping allows us to carry and deliver parcels at highly attractive prices with low incremental burden on the environment, by people who can earn some extra money and, possibly, the satisfaction of supporting their local neighbourhood.
This blog was originally posted on the World Economic Forum Agenda.
Author: Professor Alan McKinnon, Professor and Head of Logistics at Kühne Logistics University, Germany. Chair of the World Economic Forum's Global Agenda Council on Logistics & Supply Chains. Head of Logistics, Wolfgang Lehmacher, Director, Head of Supply Chain and Transport, Mobility Industries, World Economic Forum.
Image: A worker loads packages onto a bicycle as he prepares to deliver them in central Beijing, December 22, 2011. REUTERS/Staff