Qualification
Innovation in the educational sector
The German Foreign Trade and Commerce Academy and the Seminars unit of BVL now provide their students and course participants with a range of new qualification paths.
From this year onwards, current and future students at the German Foreign Trade and Commerce Academy (DAV) in Bremen can take advantage of a new qualification option. If they possess a ten-year school diploma or a university entrance qualification as well as a vocational training diploma and one year of working experience, they can obtain a dual degree as State-Approved Business Manager and Bachelor of Science in just two years. This is made possible by the cooperation agreement between DAV and Liverpool John Moores University (LJMU). Through this cooperation, DAV is offering up-and-coming logistics talents studying international logistics management a highly effective path for hands-on further education leading to an academic degree of a kind that is currently unknown in Germany.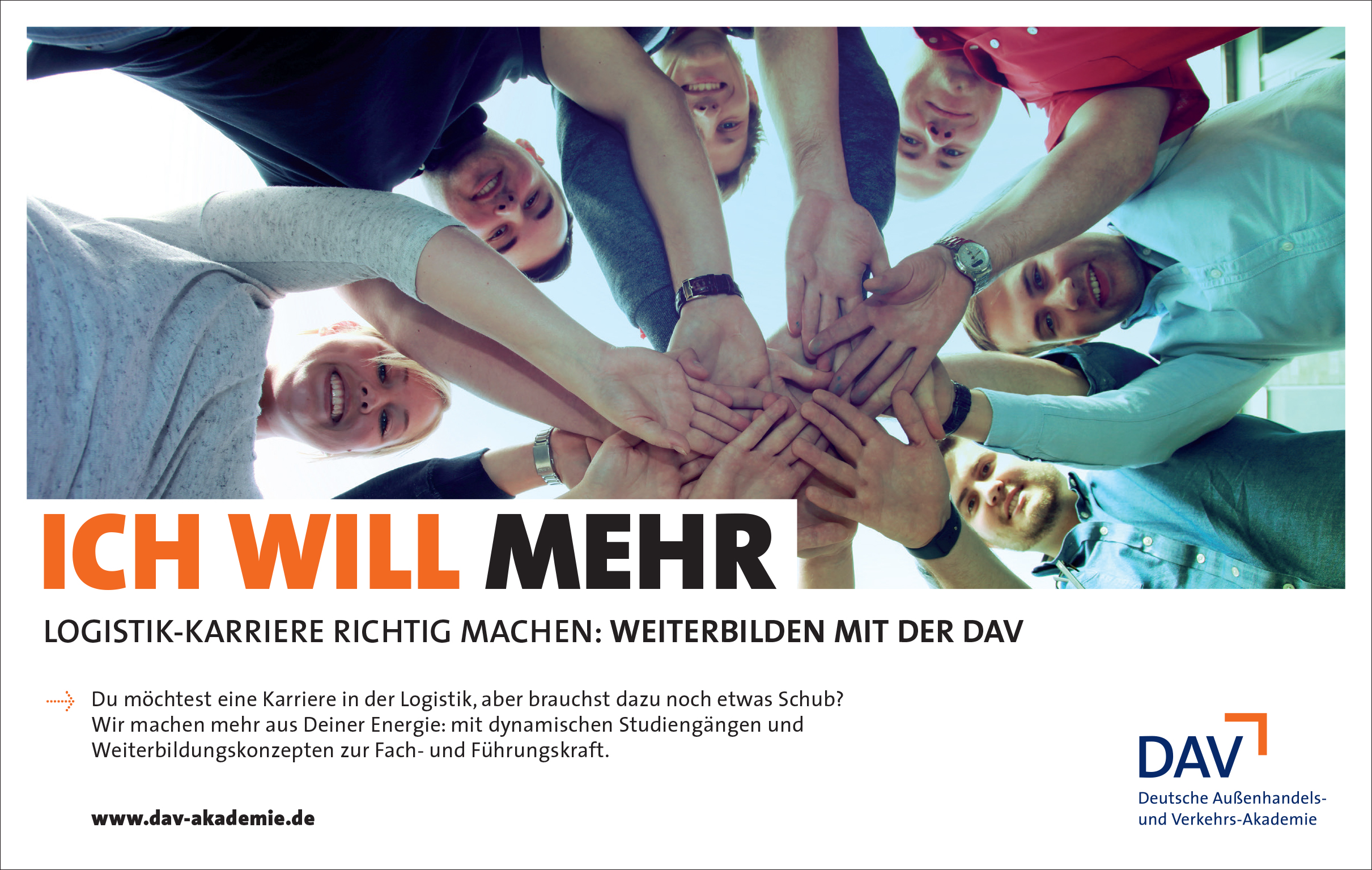 DAV awards the title of "State-Approved Business Manager" in Economics majoring in International Logistics Management. This qualification is a practice-focused German qualification. LJMU additionally awards the academic degree "Bachelor of Science (B.Sc.) in Logistics and Supply Chain Management" with 180 credits; the study course is organisationally integrated in the university's Faculty of Science and Technology, although the course content and the degree itself are management-focused rather than technical. The path to both academic titles, both of which are fully accredited in Germany and the UK, is part of an interdisciplinary and non-bureaucratic study schedule. Prof. Ian Jenkinson from the Department of Maritime and Mechanical Engineering at LJMU has great hopes for this collaboration: "Through this cooperation with DAV, we are integrating the practice-oriented and application-focused approach of DAV in our own study programme. This extends the scope of our activities and enables us to attract highly practice-focused graduates, something that will set us apart from other universities in Britain. Moreover, we offer DAV access to scientific resources and the benefits of a university with international activities."
Compact study course in logistics
Next year, a new concept will be introduced for the Compact Study Course in Logistics (KSL), BVL's highly respected further training programme for logistics managers. The courses have been modularised and will in future stand on three pillars. There are six compulsory modules, three compulsory elective modules and a practical project. The compulsory modules impart essential specialised and leadership know-how, which are of relevance for those taking on management responsibility. The compulsory elective modules enable the participants to choose personal core topics to suit their individual needs and permit them to commence their further training more flexibly. In the concluding practical project, participants can then gauge their own hands-on expertise in a demanding real-world project task – ensuring that they possess the skills to perform management functions in the future.
The Compact Study Course in Logistics will in future comprise a maximum of 22 face-to-face days, making it easier to complete the course on a part-time basis than was previously the case. Seminars and certificate courses of BVL that have already been attended during the previous 24 months can be accredited. After completing all modules and passing the examinations, the graduates receive the BVL certificate of "Certified Logistics Manager".