Science Award for Supply Chain Management | Thesis Award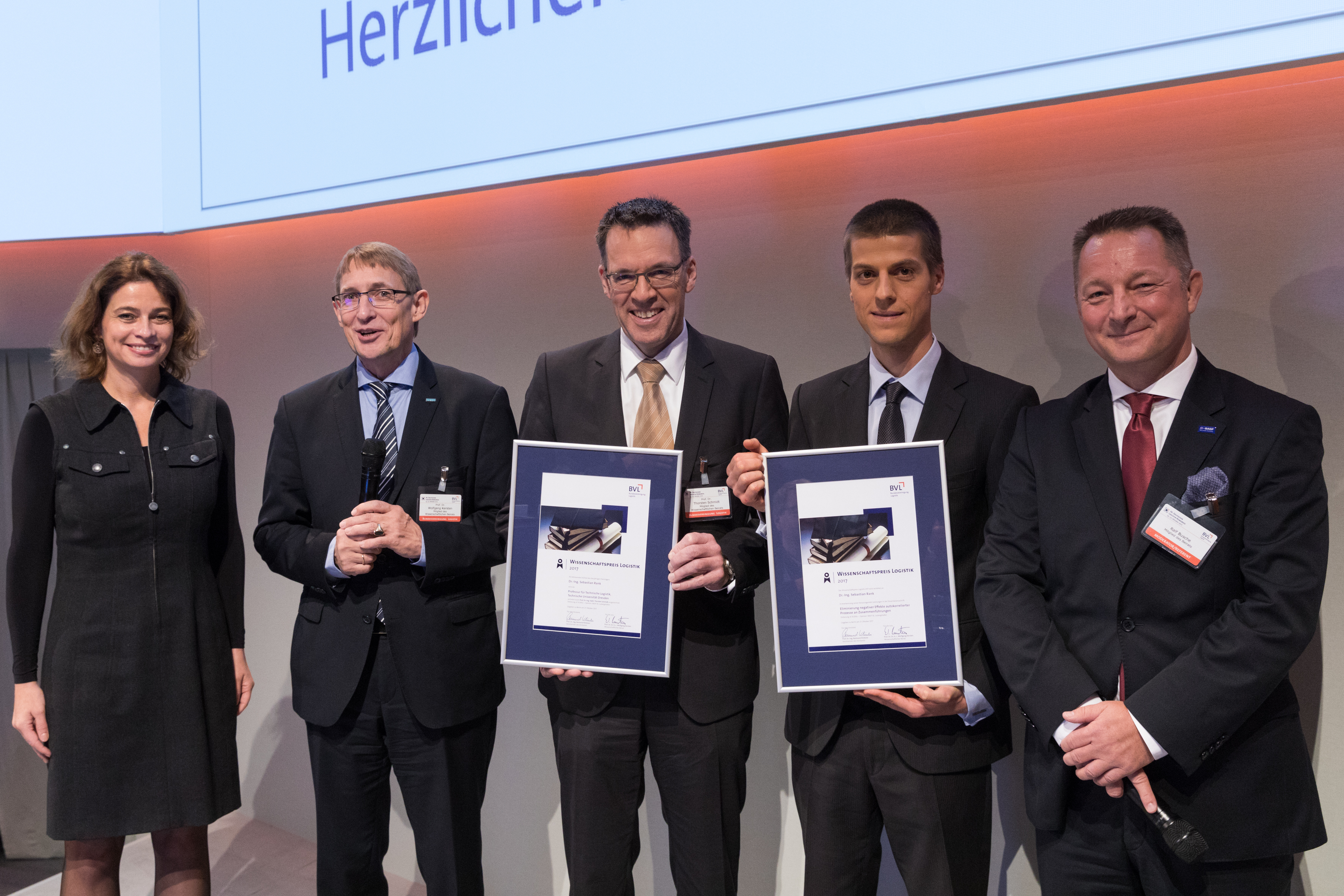 The Science Award for SCM 2017 went to Dr.-Ing. Sebastian Rank and the Chair of Technical Logistics at the TU Dresden University headed by Prof. Thorsten Schmidt.
The project is entitled "Elimination of Negative Effects of Autocorrelation at Mergers" and is aimed at increasing the throughout of in-plant transport systems. First, Sebastian Rank explains that processes and material flows have statistical properties that differ from those that are generally assumed to exist. In a wide-ranging empirical study, he shows that processes in material flow systems – such as arrival processes into a buffer stock or order volumes of customer orders – generally exhibit autocorrelation (self-similarity) properties. Autocorrelation is a concept from the field of statistics and signal processing, and describes the correlation of a function or a signal with itself at an earlier point in time.
"With his work on autocorrelation, Dr. Rank is tracking down a phenomenon that changes our fundamental understanding of logistics systems across the entire spectrum of such systems", said Prof. Wolfgang Kersten, Chairman of the Jury for the Science Award for SCM. The findings are based on the empirical analysis of 70 real data sets from companies in different sectors. Figuratively speaking, groups of transport units are observed far more frequently in (auto)correlated processes. This behaviour negatively impacts system parameters (e.g. 50 percent increase in throughout times), twice the level of system volatility, and a far higher probability of system blockages – particularly in highly automated systems. It is therefore essential that autocorrelation is taken into consideration both during modelling – to create valid models – and during the operation of material flow systems. The work is based on a project of the Industrial Collective Research (IGF) from 2011 to 2013 focusing on the control of highly correlated logistics and production processes. At the time, the TU Dresden University and the Bundeswehr University Munich were involved in this project.
Find out more www.bvl.de/wpl
Thesis Award
Once again this year, outstanding students of logistics had the chance to be nominated by their professors as winners of the Thesis Award of BVL. BVL has been inviting entries for excellent degree theses for this young talent award since 2010, and the Thesis Conference at the 34th International Supply Chain Conference once again served as a meeting place and a presentation platform for graduates and young professionals. Five theses selected in a public voting session were presented, and the future logistics managers were able to obtain ideas and information for their future career plans.
Find out more www.bvl.de/thesis.