Science and research
Science Award for SCM - The importance of warehousing for eCommerce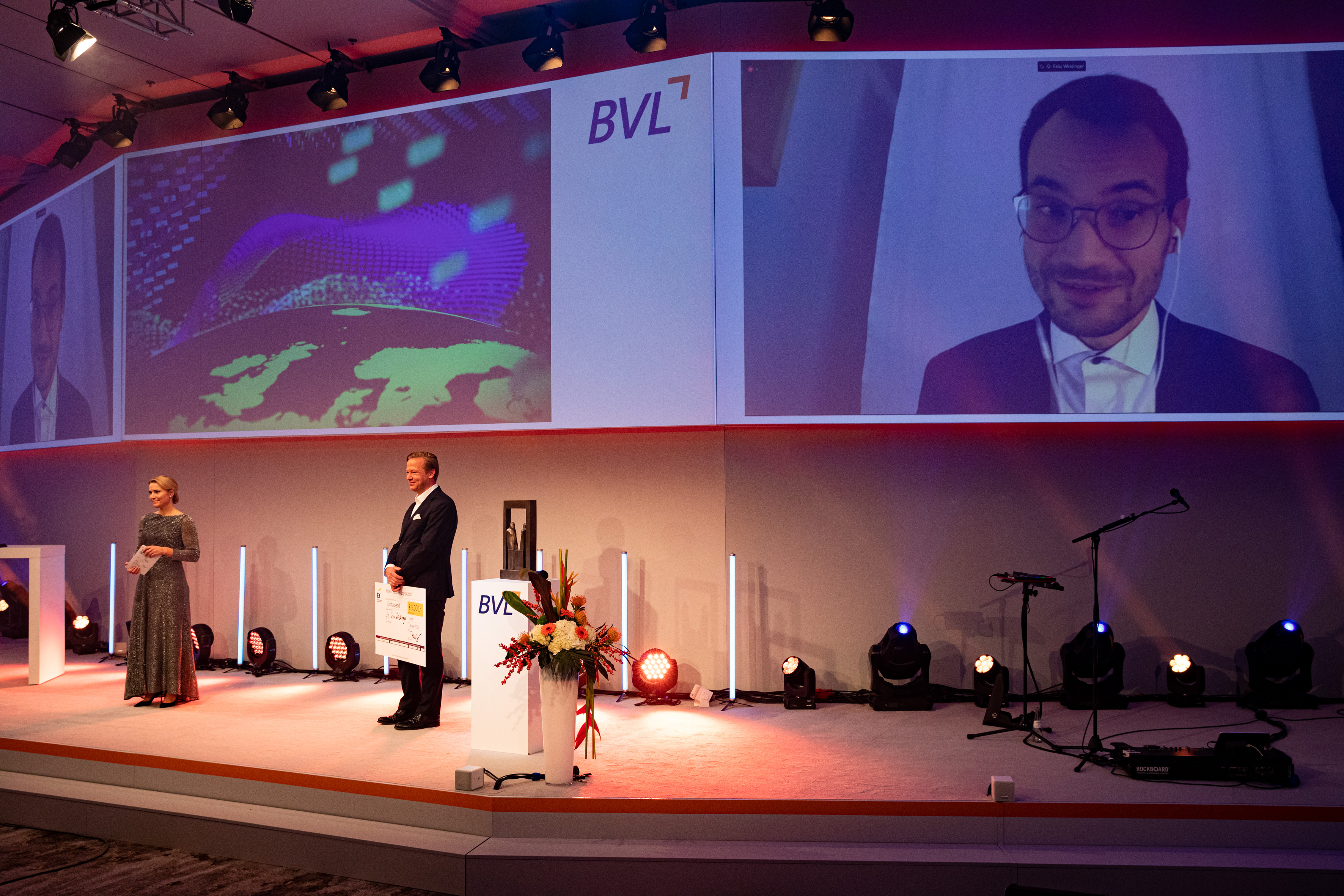 The Science Award for SCM 2020 went to Dr. Felix Weidinger for his dissertation entitled "E-Commerce Warehousing – Order Fulfillment in Modern Retailing". His thesis provides an overview of established eCommerce warehousing systems and outlines solution processes and decision-making support for novel planning problems. The background to this development is that online trading is experiencing growth in a scenario characterised by new rules and changing customer expectations. The gap between traditional warehousing systems and new task definitions is becoming larger all the time. What happens in the warehouse often determines which eCommerce traders will be able to hold their own in the fiercely competitive online market by providing a steady stream of new services. One example of this is the way in which the creation of premium shipping schemes with guaranteed delivery the next day or even on the same day is massively increasing the time pressure on the picking of customer orders. Extremely high-level time restrictions are often found in the "food" and "household items" product groups where online mail order operators are in direct competition with a close-knit network of chain outlets of stationary retailers.
Modern warehousing systems designed for the picking of eCommerce orders adapt traditional systems by reorganising critical processes or use hardware-based innovations to unblock bottlenecks. This new generation of warehousing systems comprises a wide range of different solutions, each of which exhibit new system-specific planning problems. If processes are restructured, this can result in changes to fundamental assumptions – which means that proven solutions are no longer applicable. Moreover, it can create new planning problems, and the challenge is then to modulate new technical solutions in the best possible way.
The first thing Weidinger provides through his work is a systematic framework for the categorisation of conventional and new types of warehouse. More importantly, however – and this is the primary scientific achievement – he has developed high-powered optimisation processes for the solution of specific, above all operational, problems. The algorithms pave the way for the definition of concrete support measures for the management of modern distribution centres.
More about the Science Award for SCM >>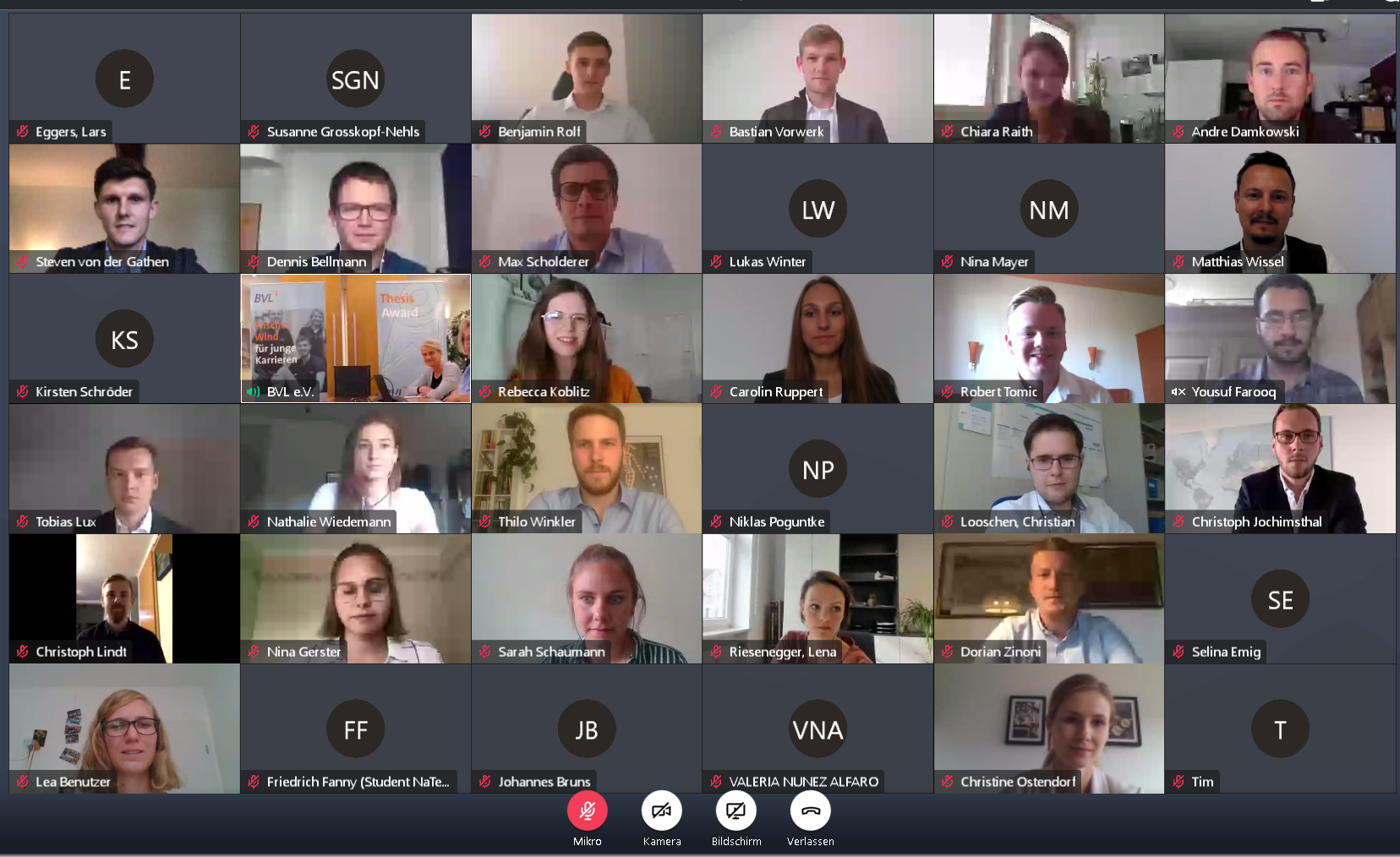 Thesis Award - Focus on sustainability
For what was already the eleventh year in succession, BVL turned the spotlight on young people who decided to study logistics and successfully completed their degree programme. The graduates were nominated by their professors, and the selection criterion was the exceptional quality of their final dissertations. Awards were earmarked for 50 winners; 45 graduates were nominated by their professors, and they included 15 Bachelor theses and 30 Master theses. One third of the dissertations focused on sustainability-related topics. There have been a total of 656 winners over the years. Some of them received the award in different years for both their Bachelor and Master theses. The award winners also include subsequent winners of the Science Award for SCM Dr.-Ing Max Gath (Bremen University) and Dr.-Ing. Sebastian Rank (TU Dresden University).
Rendering logistics research visible
The work of the Scientific Advisory Board and the Research Council proceeded as scheduled in 2020.
The Scientific Advisory Board headed by Prof. Kai Furmans came together at two digital meetings in June and October. Smaller groups then met in September to coordinate work on key topics. The two Advisory Board working groups "Transportation" and "Intralogistics" submitted their paper for publication in the "Logistics Research" journal (LORE). The paper is to be presented at a scientific conference in the coming year – as is the paper of the third working group on "Management, Coordination and Organisation".
At its November meeting, the BVL Board re-appointed Professor Alexander Hübner as Editor-in-Chief of LORE and a member of the Scientific Advisory Board. A total of eleven contributions will be published in LORE this year. Two special issues are scheduled for 2021 – one on the topic of "Supply Chain Analytics" (deadline on January 15, 2021 for an abstract and June 30, 2021 for the full paper) and one on the topic of "Supply Chain Management in Emerging Economies and Developing Countries" (deadline on September 30, 2021).
One extremely positive development for logistics research was the election of Prof. Furmans to the Review Boards of the German Research Foundation (DFG), where the topic of logistics is now represented once again after a lengthy period when this was not the case. The DFG Review Boards assess the applications and the eligibility of research projects for funding. In their assessment process, they also monitor compliance with uniform standards. The members of the Review Boards are elected for a period of four years. Each member is assigned to a specialist field based on the focal point of his or her scientific work. Multiple scientifically interconnected specialist fields form a Review Board.
Video message from Prof. Kai Furmans (German)
The Research Council headed by Dr. Christian Jacobi once again came together for three meetings in 2020, one of which was still an in-person event at the Grohe Showroom in Düsseldorf. The two other meetings were in virtual format. The Research Council is made up of logistics practitioners with an academic interest who serve on this body in an honorary capacity and who have made it their mission to identify existing research deficits in the field of logistics as a basis for defining key, necessary project initiatives. It initiates, supervises and assesses projects and helps the research partners of BVL to gain access to funding from the IGF joint industrial research programme. Here are the key data for 2020:
Short applications: The research establishments submitted 41 short applications.
Long applications: 30 IGF applications and 1 Cornet application (international) were forwarded for review to the German Federation of Industrial Research Associations (AiF).
Project starts: Nine
2020 status: 28 ongoing projects with a volume of around 7.3 million euros
Funding volume in 2020: Just under 2.9 million euros