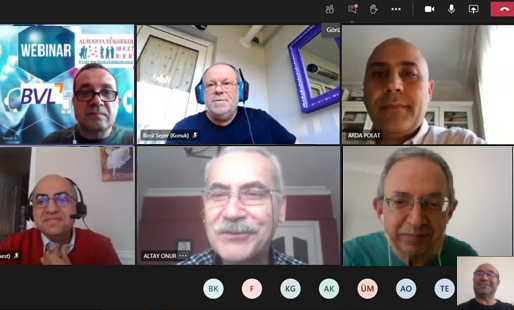 BVL Chapter Turkey Online Event – "Digital Transformation Management"
Together with BVL Chapter Turkey, BVL Representative Turkey, Altay Onur, hosted the online event on digital transformation, which saw 23 local logistics enthusiasts come together on 6th February. After BVL Chapter Turkey Chairperson, Arda Polat, got the online event underway with his opening speech, the online participants were asked what is digital transformation? The first part of the event offered basic insights about the importance of data, the foundations of digital transformation, Industry 4.0 applications based on digital transformation (DT), and the history of the Industrial Revolution and DT components. It also went on to focus on collecting, monitoring and processing data, as well as finally evaluating data with examples of some cases. The second part of the seminar looked in to the steps that are to be taken in order to achieve Digital Transformation (Digital Maturity Self-Assessment and On-Site Digital Maturity Assessment Studies). Finally, the main parameters as to how digital transformation processes are projected were assessed using the main methodologies and control parameters. The nearly two hour-long online event was concluded with a Q&A session. University lecturers and students as well local industry representatives and consultants were among the event's participants.
New International BVL Members
BVL welcomes the following new international corporate members who have joined since the beginning of 2021:
Personnel and logistics EOOD
Storeganizer
BVL Chairpersons and Representatives
The BVL Office would like to thank former BVL Representatives Lennart Brüggemann (USA - Detroit), Charles Christophe Fotso Bopda (Cameroon), and Shailen Shukla (UAE) for their voluntary service in previous years within the BVL Network.